About M.S.A., Inc.
Jerry Rozum started out in the transportation industry in 1968 as a dispatcher for Brada Miller Freight Systems. In 1970, he was hired at Art Brockman Inc., Heavy Haul Truck Division. In 1979, he was promoted to Vice President and General Manager and served in that position for the next 10 years. During this time, he developed the knowledge of running the day to day operations of a specialized trucking operation.
In 1992, Jerry, along with his wife, Marion, acquired M.S.A., Inc. Starting out with 5 van trucks and 5 drivers, they built the business to its current status of 50 trucks, 150 trailers and 60 employees. Jerry and Marion's two children have worked in the family business since 1992 in various capacities. Their son, J, graduated in 1998 from the University of Michigan and is currently the Operations Manager. Their daughter, Lisa, a 1999 University of Michigan graduate, has assumed the role of the company's Controller.
M.S.A., Inc. is a member of the Specialized Carriers and Rigging Association and is recognized as a leader in transportation. M.S.A., Inc. is certified as a U.S. Bonded carrier, which enables us to provide full service to the United States, Canada and Mexico.
M.S.A., Inc. specializes in curtainside transportation and the fleet includes curtainside flatbeds, single drop decks and double drop lowbed trailers. Recently, we added expandable mini-deck and multi-axle heavy haul trailers to the fleet. Our trucks and trailers are well maintained by our "in-house" mechanics.
M.S.A., Inc. is committed to providing you with dependable transportation solutions by using dedicated, experienced drivers and staff for any sized delivery, to any location.
M.S.A., Inc. is your complete transportation service, including logistics, rigging, 24 hour on call tracking, and preparation of customs documentation.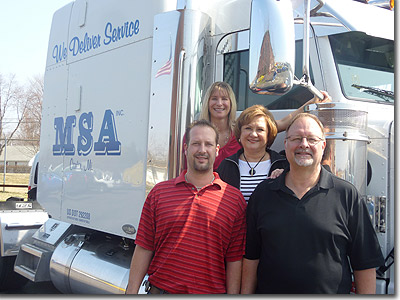 M.S.A., Inc. orders all load permits and route surveys to meet your over-dimensional and heavy haul needs.
M.S.A., Inc. prides itself with integrity and reliability. Our drivers perform their duties in a manner which earns respect, confidence and loyalty from our customers.
M.S.A., Inc.'s central goal is customer satisfaction. We Deliver Service.
In 2009, M.S.A., Inc. relocated to its present location at 4290 Hannan Road in Canton, MI. We welcome you to drop in and see how our equipment and staff can help assist you with your next project.
On behalf of the Rozum family and M.S.A., Inc., we thank you for visiting our website. If we can be of any assistance, please call our office. We will be happy to quote your next job and assist you with the logistics to move your freight safely, efficiently and in a timely manner.